November 2017
West coast we're coming for you and playing with tons of great bands! Check the shows page for all the rest of our autumn Tasty Waves tour dates details

October 2017
Be on the lookout for James William Glass (PLRLS) "Streets and Sanitation" music video coming soon

Check out The Safes XPN performance and feature on Eric Schulman's #IndieRockHitParade Friday night show
Don't forget to relisten to The Safes on Joe Belock's WFMU's 3 Chord Monte show and his show every Monday noon to 3pm - rocknroll people!!!
Read this awesome Tasty Waves review by Lord Rutledge at Faster and Louder
Gander at this Columbus, OH show preview written by Joel Oliphint at Columbus Alive
Thanks to Kayla Carmichael at The Corner Type for the feature and posting the "Hometown" video
That's right The Safes Tasty Waves (Hidden Volume Records) is at 46 on NACC charts! Thanks to all the stations, MDs, and DJs spinning our record and all the listeners!
Read a fun interview with Frankie O'Malley and Allen Halas at MKE's Breaking and Entering
East coast we're coming for you riding Tasty Waves and playing with tons of great bands and friends! Check the shows page for all the Sept, Oct and Nov tour dates details
Be on the lookout for us performing live on two killer radio station WXPN in Philly and WFMU in NJ/NYC!!!

Order the Sea Blue &/or Electric Blue LPs at Hidden Volume
Or pre-order on iTunes & CD

September 2017
Thanks to Richard Milne for spinning us on WXRT Local Anesthetic, WLUW Razor and Die, and all the college and alternative commercial stations playing The Safes Tasty Waves and getting us on the charts!

See you Cleveland, State College, Philly, Cambridge, Newport, at end of September!
Crossroads Music Festival in splendid KC, Circle-A in MKE and Scoobfest in Green Bay both were a gas, thanks to all you kind people!

Wanna be part of the coolest music festival around, head tons of killer bands, meet other sweet music lovers and eat some tasty KC BBQ? Trust us, you do! Grab your tickets for the Crossroads Music Festival that we are fortunate to be playing next weekend 9/9 in beautiful KC, MO! This festival is masterfully produced by Bill Sundahl, KKFI 90.1 FM radio station and some of KC's finest like Jaqui Craig! We can't wait!
Buy tickets now!

Midwest and East coast we a're coming for you!!! Check Shows page for the dates!

Popmatters Jedd Beaudoin premiered The SAFES - Tasty Waves. Read Jedd's review while streaming it in it's entirety here!

Listen up for our second single, "Mediocre Jokers" premiered here by Jim Kopeny at Chicagoist!

Pre-order the Sea Blue &/or Electric Blue LPs at Hidden Volume
Or pre-order on iTunes & CD

August 2017
Thanks to Stereogum for premiering the first music video & single from The Safes Tasty Waves out Sept 8th on Hidden Volume Records, folks!
Watch this "Hometown" video that was expertly directed and annimated by Patrick Oleksy here!

Shout out to Alternative Press for including The Safes "Hometown" video single as 13 songs you need to hear!

July 2017
The Safes are thrilled that we'll soon be sharing with you our first single, "Hometown" from Tasty Waves via Patrick Oleksy magnificently animated and directed music video - LOOK OUT!
The Safes have the best friends. Thanks to you! We will see you soon in your towns soon!

Thanks to all the lovely people that came out to Montrose Beach on the 4th of July - what an awesome night!

June 2017
The Safes are thrilled to be releasing our next LP, Tasty Waves, with Baltimore's garage rock maven Hidden Volume Records on September 8, 2017!
Be on the lookout the limited edition two color vinyl options!

Beach Blanket Blitzkreig on the 4th of July at Montrose Beach with our friends Black Cat Heart Attack, Sweet Figurines. So.... come on. Fireworks, Rock'n'roll, beach, waves...

May 2017
RawFest - June 3rd Sat. Chicago, IL @ Township
w/ Bible of the Devil, The Vibrolas, Buzzzard, The Evictions, Beggars, The Miners
Dr. James William Glass surgically crafted the Streets and Sanitation video! So cool!
April 2017
Hello!!!! Hello!
Penthouse Sweets album release for In the House of Penthouse Sweets on Saturday April 29 at Livewire Lounge Chicago
with The Safes and The Means of Production. Cya there!

Mastering our new album and starting to get the artwork formatted - soon we will share....
March 2017
Finished up the mixes with Brian Deck at his home studio last month - sounding great...
February 2017
Bickhamstock show at Double Door on Friday Feb 17 playing along with Little Boy Jr, Coyote Riot, PM Buys!
Final mix touches happening soon for our next lp - can't wait 'til you guys hear it
Listen to and watch some videos from The Safes on WGN Radio's "Live from Studio 435" on Justin Kaufmann's The Download show right here
January 2017
Just tracked some french horn and trumpet for the next album - sounding cool!
Radio, Radio - Monday Jan 9 @ 10pm CST tune into WGN Radio to hear The Safes on The Download with Justin Kaufmann!
Come out to Township on Sat. Jan 14 for a great Early, all-ages show with our friends The Differents, The Hustle, and Ex Okays; doors 3pm, $8

December 2016
Shooting footage for animated music video for "Hometown" off of our upcoming album

November 2016
TV - TV - TV - TV --Wed Nov 23 at 8:45am (CST) tune into Fox Morning News to hear The Safes play live the morning of Friendsgiving!
On Friday Nov. 18 at 5pm, tune your radio dial to the Razor and Die show on Chicago's WLUW to hear The Safes talk with Di and Razor about Friendsgiving,
spin a new cover song we recorded and tracks off White Mystery and Flesh Panthers new albums!
Thanksgiving Eve. Friendsgiving: White Mystery // The Safes // Flesh Panthers // Master of Ceremony, comedian Bill Bullock
@ 1st Ward (2033 W North Ave) on Wed. Nov 23
Ages 18 and over! FUN.


October 2016
DJ James VanOsdol and longtime supporter of The Safes spun "I Would Love To" on his 101 WKQX Demo312 show, thanks James!

September 2016
Don't miss this show - Friday Sept. 30 @ Township with The Differents, Baltimore's PLURALS, and The Laureates!
9pm - $8 Talk about a steal!

Did you read John Borack's review in Goldmine Magazine re:
THE SAFES –RECORD HEAT
"One of the cooler things about being a music buff is discovering a band that's flown under your radar for many years. Such is the case with me and The Safes, a Chicago-area combo led by the O'Malley brothers – Frankie, Michael and Patrick – that has drawn comparisons to Guided by Voices, The Apples In Stereo, Brendan Benson, Fountains of Wayne and even the Kinks. I've been listening to their 2014 release,Record Heat, and it's a short (barely 25 minutes) 10-song effort that can be seen – and heard – as some sort of amalgamation of all the above comparisons, with a garagey swagger and super-sweet lead vocals (courtesy of Frankie, I believe) that are a bit reminiscent of The Singles' Vince Frederick. "I Would Love To" and "Know it All" are both power poppin' sureshots, and The Safes deftly avoid any of the clichés often inherent in the genre. Check out their 2006 effortWell Well Wellas well; 10 more cool ditties with sharp hooks and some great song titles: "Cool Sounds are Here Again" and "Phone Book Full of Phonies."

August 2016
Windy City shows in September with our friends from home, Philly & Baltimore! Can't wait! First one is Friday Sept. 9 @ Liars Club with our bros Red Lions and The People!

July 2016
Did you see that placement with The Safes "Youth Cult" and Quiksilver? Radical

June 2016
Still waters run deep...

March 2016
Making more recording process and Chicago be on the lookout for shows soon

January 2016
Tracking, tracking, tracking, tracking, tracking summer songs in the middle of winter - it does a body good
Photo shoot late last month was truly special - family style, be on the lookout.

December 2015
10 new recordings in the can in 2 days with the boys in the band and Brian Deck at the console

November 2015
Thanksgiving Eve Nov 25 at Livewire Lounge ( 3994 N. Milwaukee Ave ) - Don't miss it!
The Regals will open the show, Red Plastic Buddha will perform second, The Differents third and The Safes play last

More rehearsals and preproduction happening before we head into the studio to record another new one

September 2015
Finished mixing one album Sept 18; started practicing for next lp with the boys Sept. 19.

My oh my, how have you been? The SAFES are playing a fun weekend of shows with our pals Thee Lexington Arrows and Red Lions Oct. 2 & Oct. 3
See you there

November 2014

Thanksgiving Eve 2014 - with our friends The Differents kicking off the show and Back Alley Riot closing it shut! See You there.
Wed Nov 26 at Livewire Lounge
3394 N Milwaukee Ave, Chicago, IL 60641

Check out this fun feature Pollstar interview by Jay Smith with Frankie talking about whats cooking

Thanks Magnet Magazine for the spotlight on "Hopes Up, Guard Down" on MP3 At 3PM
"Chicago power trio The SAFES, who pump out some of the best garage rock the music world has seen.
Latest single "Hopes Up, Guard Down" is fun and crazy, constantly spinning and whirling in a frenzy of psychedelic garage pop."

Terry Flamm reviewed "Record Heat" on Broken Hearted Toy

October 2014
Pollstar kindly highlighted Willie Nelson performing at the White House,
Grateful Dead dudes at the World Series in San Fran,
and The SAFES new music video

Yahoo! Music premiered The SAFES "I Would Love To" music video directed by Mickey Mangan on Oct. 20. You have to watch it!
YahooMusic.com by Wendy Geller
"Chicago-based power-pop band the Safes have just released a new album, Record Heat,
and to mark the occasion they've decided to release an anthemic new video for single "I Would Love To"
— one that shows off just how dedicated (and widespread!) their global fan base is.
Yahoo Music is excited to premiere the very first look at the innovative clip, which depicts fans of the band throughout the world
– in their home countries (15 represented), and in their native languages (12 represented). Talk about international appeal!
If you'd like to catch the Safes on tour in your town, they're rolling through the Northeast all November. Check below for Fall tour dates.
11/10 Cleveland, OH @ Pats In The Flats
11/11 Pittsburgh, PA @ Howlers
11/12 State College, PA @ Darkhorse
11/13 Philadelphia, PA @ Ortlieb's
11/14 Boston, MA @ PAs
11/15 Portland, ME @ Bayside Bowl
11/16 Providence, RI @ The Parlour
11/17 New York, NY @ Pianos
11/18 New Haven, CT @ Cafe Nine
11/19 New London, CT @ Oasis
11/20 Annapolis, MD @ The Metropolitan
11/21 Baltimore, MD @ Sidebar
11/22 Bowling Green, OH @ Howard's Club H
11/26 Chicago, IL @ Livewire Lounge
Sign up to be a Daytrotter member to hear our Record Heat Session Listen to "Hopes Up, Guard Down" right here

Thanks to Nic Harcourt for spinning "Hopes Up, Guard Down" on his Connections radio show!
Be on the look any day now for the release of the "I Would Love To" music video directed by Mickey Mangan. So awesome!
Thanks to Mickey Mangan, Giovanni Bucci, Siobhan and all our fans across the globe for being part of something we're very proud of - you rule!

Check out the Shows page for our upcoming east coast tour! Can't wait to see your lovely faces again!

August 2014
Had a blast recording a Daytrotter session last weekend! Session will be posted soon
Working on finishing up LP4 - LOOKOUT!

May 2014
Buy Record Heat on CD or 12 inch white vinyl here or on Bandcamp here
Popmatters premiered The SAFES - Record Heat. Stream it in it's entirety here! While listening you can read stories of each song written by Frankie O'Malley!
Be on the lookout for the official music video for The SAFES - "I Would Love To" directed by Mickey Mangan to be premiered soon! It's incredible.
Thanks to Mickey and everyone that contributed to make a truly global video.
Watch a video of The SAFES tracking and mixing Record Heat in Detroit with Jim Diamond, Jason Ward in Benton Harbor, MI @ KeyClub Recording and at StudiO'Malley.
Can't wait to see you all on the road!

April 2014
The SAFES Record Heat will be going for adds on radio on April 22 - tune into your favorite radio stations and request The SAFES!
Thanks to Eric Davidson of CMJ for the video premiere of The SAFES 'Hopes Up, Guard Down"on Monday April 7 directed by our friend Mike Hindert.
"Chicago's modern rock musical rep rests primarily on Touch & Go's long post-rock legacy, and deservedly so. But since the late-70s, the Windy City has also been a consistent fount of solid power pop, from the big bang of Cheap Trick to awesome also-rans like Epicycle and the Vacant Lot, regional warhorses like the Elvis Brothers.
The Safes have continued along that line for a few years now. A trio of brothers (Frankie, Patrick and Michael O'Malley), they credit their dad with having a home full of cool classic rock records, and they smelt loads of exhumed '60s garage and pop goodness into their bright sound. Their third full-length, Record Heat—recorded by Jim Diamond (White Stripes, The Sonics), Jason Ward (Arcade Fire) and Patrick O'Malley—will be out April 29 on Wee Rock Records, and we've got a video premiere for the single, Hopes Up, Guard Down, right here. Let's just say the motorcycle bandit who zooms through this mini-movie is no chicken."

On Tuesday April 29,
Wee Rock Records
brings you The SAFES new LP
Record Heat
Available in White-hot 12 Inch vinyl LPs, compact discs, and digital varieties
Come pick up your copy at one of these fine shows
-
we're looking forward to seeing you all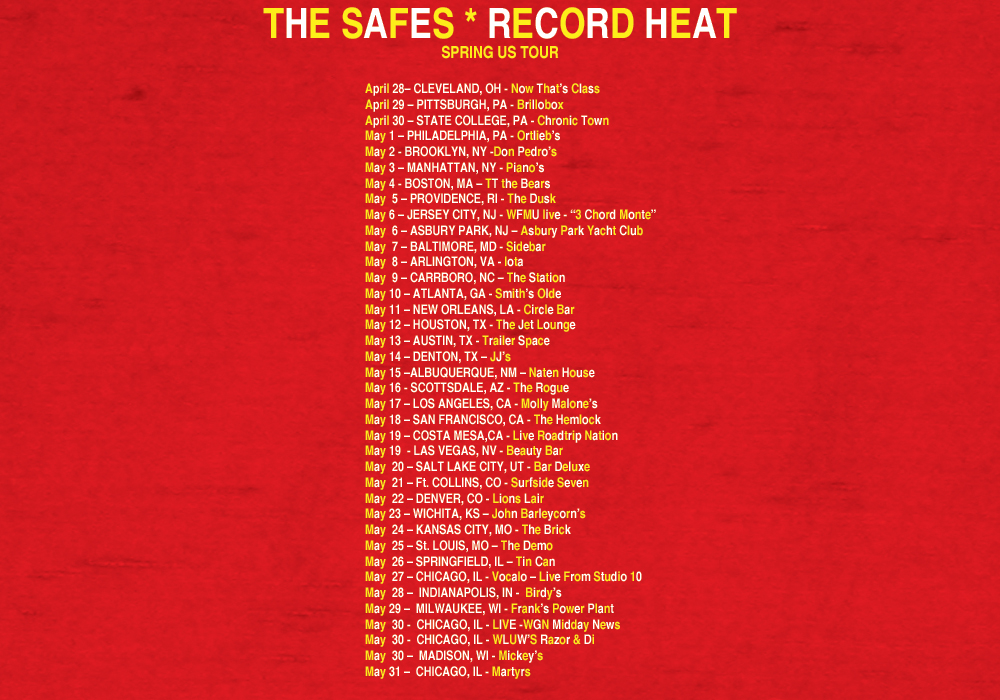 Here are some stills from The SAFES upcoming music video directed by Mike Hindert of The Bravery; look for a premiere in early April!